D.C. McLaughlin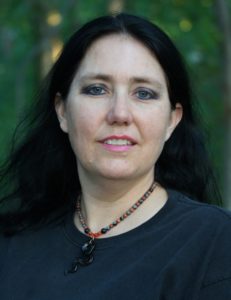 D.C. McLaughlin, grew up in Delaware on the Tony Florio Woodland Beach Wildlife Refuge. She is a veterinary technician and has spent most of her life working as a race and show horse groom. She now resides in York County Pennsylvania, with her husband of many years on a small farm with three Haflinger horses, a flock of chickens & several cats. When not caring for the animals, she participates in historical re-enactments and studies Middle Eastern dance.
D.C. McLaughlin has four books to her credit with many more to follow. "Deadly Conversations" was her first book published, a paranomal gothic followed by its sequel "Whispers of Life". She also has her fairy tale novella "Wanderling's Choice". Lastly there is her epic high fantasy, "Legend of the Blood Raven."
"Legend" has garnered high praise from Kirkus & Indie. Devon is currently working on the sequels to "Legend" & "Whispers".