Dr Who Themed Tea Party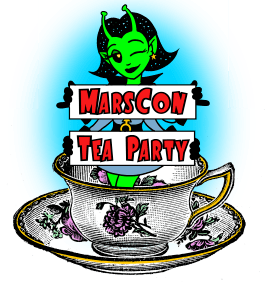 By popular demand we're be bringing back the Doctor Who Themed Tea Party in 2018.
Pre-Con Sign-up for the Tea Party is NOW available. There will be a limited number of tickets available at the Con. They tend to sell out quickly, your best bet is to sign up online to reserve your seat for this amazing and beloved MarsCon event.
Dress in your finest, or funniest, costume and bring you're most interesting conversation to share at this popular event. It is an opportunity to spend some time with some of the "regular" Marscon Doctor Who cosplayers, other Doctor Who fans, tea party enthusiasts, and fellow costume lovers.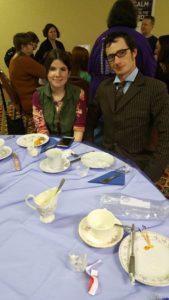 With a menu sure to please the most discerning of tea party palates: we will offer scones and creamy butter; assorted savories including tea sandwiches, deviled eggs; sweets including cookies and cupcakes; and of course, hot tea.
Our afternoon tea will be held on Saturday, January 13th, with two one and a half hour-long servings. The first seating will begin promptly at 11:30am until 1:00pm and the second will begin at 3:30pm until 5:00pm. SPACE is very limited.
40 seats for each seating are currently available for a $5.00 per person fee. To reserve your seats click Here. The other 20 seats per seating will be available for a $5.00 per person fee at the Con. Stay tuned for the location.
For more information, contact the Tea Party Coordinator: Click Here
Pictures from our 2016 Tea Party!!