Carla Brindle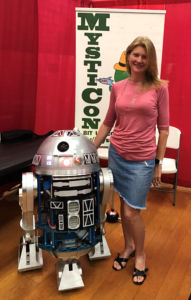 Carla Brindle is one of the key founders of Mysticon; she has served as both President and Convention Chair and is one of the movers and shakers behind their successes. She also enjoys creating amazing sugar concoctions, which have been enjoyed by many a con-goer. She enjoys being a mother to two beautiful daughters, a wife, and a cat-herder during the conventions.
You can browse her many cakes at cakesbycarla.com.
Just a few examples!