Christine Gallipeau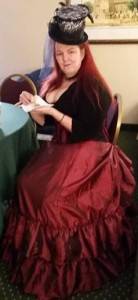 2016 Fan Guest of Honor
Christine Gallipeau wears many hats during the year.
She wears her "Mom" hat for her 24 year old daughter, Jen and her 33 year old son, Giddion.
Christine wears her "Leanna's Bitch" hat during the week at her job where she does a little bit of everything, including being Leanna's (her boss) bitch.
Every 2nd, 4th and 5th Friday Christine wears her "Go-to Bitch" hat for Fishnet Inc at the lovely Naro Cinema in Ghent.
Once a year Christine can be found at MarsCon, the only con she goes to every year, dealing with Fishnet Inc business which can include transporting all the props and party supplies for the RHPS performance and the party Fishnet Inc has hosted each year.
Her favorite hat though is her "Wife" hat that she wears with her ever supportive husband of 13 years, Richard Gallipeau.
Christine has been involved with Rocky Horror in some way for over 36 years. She's currently playing Columbia or Magenta each show.
One last hat that Christine wears is her "pet mom" hat. She is the proud mom of 7 cats, 2 cockatiels, 3 sugar gliders and an 8ft columbian red-tailed boa.
Her love of critters is what got Christine the Fan GoH. She bid long and hard knowing the money was going to help support and care for the critters.