Melissa Scott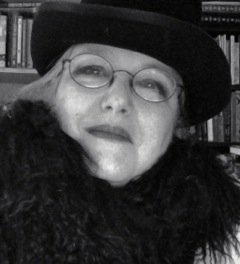 Melissa Scott was born and raised in Little Rock, Arkansas, and studied history at Harvard College. She earned her PhD from Brandeis University in the comparative history program with a dissertation titled "The Victory of the Ancients: Tactics, Technology, and the Use of Classical Precedent in Early Modern Warfare.
Over the next twenty-nine years, she published more than thirty original novels and a handful of short stories, most with queer themes and characters, as well as authorized tie-ins for the Star Trek, Stargate, and Star Wars franchises.
She won the John W. Campbell Award for Best New Writer in 1986, and Lambda Literary Awards for Trouble and Her Friends, Shadow Man, Point of Dreams (written with long-time partner and collaborator, the late Lisa A. Barnett), and Death By Silver, written with Amy Griswold. She has also been shortlisted for the Tiptree Award. She has won Spectrum Awards for Shadow Man, for the short story "The Rocky Side of the Sky," Death by Silver, and Fairs' Point.
Most recently, she has collaborated with Jo Graham on the Order of the Air, a series of occult adventure novels set in the 1930s; the fifth book, Oath Bound, was published at the end of 2015. She has also continued the acclaimed Points series, fantasy mysteries set in the imaginary city of Astreiant. The novella Point of Knives was published in 2013 and the novel Fairs' Point in 2014. In addition, she and Amy Griswold have begun a new series of gay Victorian fantasies with murder, starting with Death By Silver, and continued in A Death at the Dionysus Club. Her short story, "Finders," can be found in Year's Best SF: 2013, and her most recent short story, "Firstborn, Lastborn," will be part of the Athena Andreadis-edited anthology To Shape the Dark. She can be found on LiveJournal at mescott.livejournal.com and is @blueterraplane on Twitter.