Tabitha Grace Challis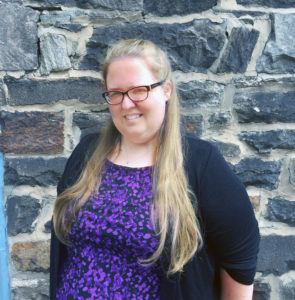 Tabitha Grace Challis (aka Tabz) is a "professional geek," writer, podcaster, and social media manager. She's worked with Felica Day's Geek & Sundry, CONtv, Wizard World, Stranger Comics, Playroom Entertainment, Pat Rothfuss, Paul & Storm, Planetwide Comicbook Creator, and has also published a series of kids books called The Adventures of Machu and Jack.
Currently, she works with the public relations firm Profiles, Inc. doing social media for clients such as the Lord Baltimore Hotel and the Rusty Scupper. Most recently, she was with Laundry Service in Los Angeles, California where she was a social media manager for the FOX Broadcasting Company. At Laundry Services her responsibilities included developing, writing and editing social media content for multiple shows such as Bones, Sleepy Hollow, New Girl, The Simpsons,and the record-breaking return of The X-Files.
She began podcasting in 2006 and has a number of fan podcasts under her belt including Buffy Between the Lines which was a serialized audio drama based on Buffy the Vampire Slayer. Tabitha has won numerous awards for her involvement in podcasts including "Best Produced" and "Best Movie" at the Podcast Awards in 2007, and the Podcasting Peer Award for "Best Audio Drama" and "Exceptional Podcaster" in 2008.
She's a Whovian, Sherlockian, Whedonite, Trekkie, member of the SPNFamily, who groks all things nerdy and geeky.
Tabitha graduated from Moody Bible Institute in 2003 with a Bachelor of Arts in Communications and, in 2012, went on to earn a Masters of Art in Creative Writing and a Masters of Fine Arts in Creative Writing from Wilkes University. She wrote her MFA thesis on vampires in media. She's a native California girl but recently moved to Baltimore after marrying her one true love.