Tangent Artists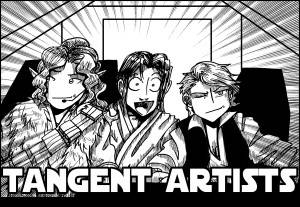 IN A WORLD… where brother fought brother, elf fought dwarf, narwhal fought robot, teacup piglet fought guy with a horse mask, one webcomic company rose above the sea of internet memes to form a single unit—a unit that called themselves… The Avengers. But as it turns out "The Avengers" was already taken, so they renamed themselves: Tangent Artists!
Thus was the creation of three comic series: The macabre comedy, "Skeleton Crew," the celebration of nerd life, "Donuts for Looking," and the Swords & Sorcery & Sarcasm series, "CRIT!" Updated weekly. Now gluten free.
Monica Marier : Script pencils, ink, and color for both Donuts for Looking and Skeleton Crew. She also does script and pencils for CRIT. She's a published Fantasy author with Hunt Press.
David Joria: Script for Skeleton Crew, Donuts for Looking, and CRIT.
Rachael Hixon: Story , print-maven and color for CRIT. She also is in charge of in-house printing for Tangent Artists comics and books.
You can view new comics every week at the Tangent Artists site: http://www.tangentartists.com/