Kevin Cuffe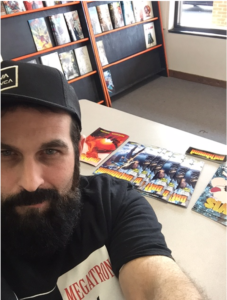 Kevin Cuffe is a comic-book writer born in Queens, New York. Kevin started reading comics with his father at the age of seven. He briefly studied screenwriting in college before the lure of music pulled him in a new and interesting direction. In February of 2013, he created Oathbound with artist Paul Gori.
Kevin's first published book, the off-the-wall The Elvis Adventures #1 (co-written with Bob Franz) completed, he is currently working on a bevy of other comic projects (besides Oathbound); with the likes of co-writer Bob Frantz, co-creator artist Drew Moss ( Image comics Copperhead ), artist Eryk Donovan ( DC's Constantine ) and artists like Fred Stresing ( Colorist Invader zim),Ricardo Lima Jr and Angela Spreacher.
Kevin and his son reside in Williamsburg, Virginia.