Leona R. Wisoker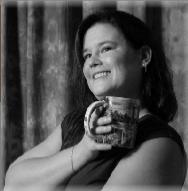 Leona R. Wisoker made a big mistake when she was young. She learned to read. It was all downhill from there. Now she has a home office, a double-monitor setup, a brag shelf, and a dog snoring on the floor at her feet.
Leona writes a variety of speculative fiction, from experimental to horror, from fantasy to science fiction. Her science-fantasy series, Children of the Desert, follows several characters through a world slowly coming apart as dangerous secrets are revealed and centuries-long plots move into their final stages. Shorter works, such as Silver and Iron in the Sha'Daa: PAWNS anthology and Dragon Child in the Galactic Creatures anthology, reflect Leona's early love of stories that involve demons and elves.
She also teaches writing classes, edits (her own and other people's work), and occasionally reviews books, music, and food items. She researches random subjects, which often send her searching through museums, on impromptu road trips, and into liquor stores.
Leona's work is fueled by massive quantities of coffee and chocolate. She often contemplates exercise, decides it's too much time away from working on really important things, then returns to creating bizarrities, or planning her next garden project.
Leona's current focus is on developing her newly fledged Patreon, building up her bookstore/promotional business (The Scribbling Lion), and seeking out liquors that don't taste like floor polish.
She can be found on Facebook, Twitter, and various science-fiction conventions along the East Coast.
All of this tells you absolutely nothing useful about the really important stuff, so follow the invisible lines painted on your computer screen and read her writing.
Oh. You can't see the invisible lines? All right then. Go to www.leonawisoker.com instead.