Shimmer and Shade Family Cosplay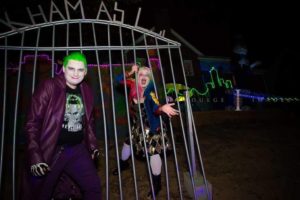 Shimmer and Shade are award-winning theatrical and costume designers from Roanoke, VA who specialize in costuming, sets, and props of all sizes. Together with their 5 children, Shimmer and Shade Family Cosplay travels the convention circuit teaching others how to bring their cosplaying and geeky desires to reality through inexpensive and creative means.
Over the past 16 years Shimmer and Shade have built many impressive creations including the Trenzalore TARDIS, Nightmare Mountain, the IronFoam Throne, Peter's Spectacular Dragon "Speck", and other large prop and set pieces for conventions, theaters, and the television and film industry. Shimmer is also a master builder and special effects makeup artist for theaters on the east coast, haunted attractions, and the film industry and Shade is an industrial painter. When they aren't building, Shimmer and Shade are active in their local community helping children learn to handle bullying and function through their differences as autism and educational advocates, as they have done with their own children through costuming in the geek and convention community. As creators of amazing holiday experiences through their front yard displays every year, Shimmer and Shade work for disability acceptance and tirelessly fundraise for local charities through their builds.
Their children range in age from 2 to 14. IronFrog, IncrediKid, Valkyrie, PegaPrincess, and the ImpossiblePrincess are often involved in the family charity builds and make and design their own costumes as well. Also known as the "Jurassic Family", the "Deadpool Family", and the "Arkham Family", the children direct the cosplays that are used at each convention based on their favorite geek-verses. Shimmer and Shade Family Cosplay loves to spend time with our extended geek family at conventions and look forward to seeing everyone at MarsCon 2017!