Toni Weisskopf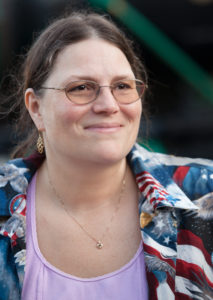 Toni Weisskopf succeeded Jim Baen as publisher of Baen Books, a leading publisher of sf and fantasy, in 2006. She has worked with such authors as David Weber, David Drake, Lois McMaster Bujold, Eric Flint, Wen Spencer, Mercedes Lackey, Larry Correia, and many others. With Josepha Sherman she compiled and annotated the definitive volume of subversive children's folklore, Greasy Grimy Gopher Guts, published by August House.
Baen is also known for its innovative e-publishing program, founded in 1999, which has expanded under Weisskopf's leadership to include not only titles published by Baen, but also titles from other publishers, all without DRM. Other new programs under Weisskopf include the Jim Baen Memorial Short Story Award (co-sponsored with the National Space Society) established in 2007, the Baen Fantasy Adventure Award, awarded at GenCon and established in 2014, and, since 2015, the Baen Best Military SF & Adventure SF Reader's Choice Award, presented at Dragoncon.
Weisskopf has been a guest speaker at many writers workshops and science fiction conventions across the country, as is well known for her interactive, audience-participation discussion of Baen Books covers and artwork, on-going and ever-changing since 1991.
Weisskopf is a graduate of Oberlin College with a degree in anthropology. She is the widow of Southern fan and swordmaster Hank Reinhardt and the mother of a delightful daughter. She lives in a hundred-year-old house in a balanced household of three dogs and three cats. Taking care of those consumes most of her spare time, but she is also interested in space science and is an active participant in the Tennessee Valley Interstellar Workshop.