Gaming
Gaming Room hours:
Friday: 3pm-12mid (ish)
Saturday: 9am-12mid(ish)
Sunday: 9am-3pm(ish)
For some the Con is all about the gaming and in 2016 MarsCon will once again open it's huge Gaming Room for a weekend of epic battles, perfect dice rolls, and an unfathomable number of well played moves.
Depending on your preference, MarsCon has it! CCGs, board games, table top adventures, or LARPing – there will be something of interest for you. For descriptions of 2016 Games – Click HERE.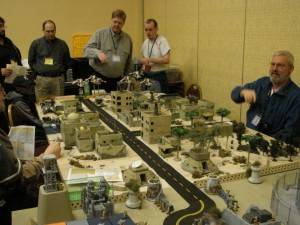 The first game begins at 3 pm on Friday and the last game ends at 3 pm on Sunday. The Gaming room will close each morning from 2 am(ish) – 8 am to allow the Staff time to refresh the room.
Contact our Gaming Coordinator
Email us now!
Sign Up to Run a Game.
Fill out this Form!
In order to receive a discount on your membership, a game master must provide the following:
6 hrs plus of games – 1/2 weekend membership – $25.00
10 hrs plus of games – Free weekend membership – $0.00
If you sign up to provide a game and no one or too few players show up, this will not count against you. As long as you report this to the Game Room Coordinator and stay at your table for a decent amount of time, you will be given credit.